Name: Ryuu Evans
Physical Age: 19
Actual Age:30
Race:vampire
Job/what they do: student
Rank:(What Rank your in. Please combine abbreviations or words together as needed. For vampires, rank from A-E for now. Also to keep form any future confusion, no there are no level E purebloods.
List of abbreviations and words:
Spoiler:

Students

Freshman Student [FS] - A human student who is in their first year of attending Cross Academy.

Sophomore Student [sS] - A human student who is in their second year of attending Cross Academy.

Junior Student [JS] - A human student who is in their third year of attending Cross Academy.

Senior Student [SS] - A human student who is in their fourth year of attending Cross Academy.

Cross Academy Falculty [CAF] - A human who either runs Cross Academy, teaches the students at Cross Academy, or helps with maintenance of Cross Academy.

Vampire Hunter

Tamed Vampire Hunter [TVH] - A Level D Vampire who has been tamed by the Vampire Hunter's Association. Their ability to handle vampires varies depending on how well they can fight vampires.

In-Training Vampire Hunter [ITVH] - A young hunter who is just learning about vampires and what a hunter does. These are typically children of hunters or hunters who are being "made" not "born".

Beginning Vampire Hunter [BVH] - A hunter who is somewhat knowledgeable about vampires, how to fight them, and dispatch them; however, they have yet to actually face any particularly dangerous vampires.

Apprenticed Vampire Hunter [AVH] - A hunter who is somewhat experienced at handling vampires. They can handle most vampires on their own; however, when facing large numbers of vampires or power vampires they may be inexperienced or need back up. They typically have a personal teacher that accompanies them and helps them dispatch vampires until their teacher deems them capable of handling vampires on their own.

Vampire Hunter [VH] - A hunter who has had much experience at handling vampires and is deemed capable of teaching other Hunters how to properly deal with vampires or help them polish their skills. They can handle vampires on their own with relative ease and can even be a match for high leveled vampires.

Master Vampire Hunter [MVH] - A hunter who has had a lot of experience with vampires. They tend to hold positions of power within the VHA, see to it that hunters exist, keep the hunters in check, and give other hunters notices of dangerous vampires in the area, or order hunters to take out various vampires when they become too powerful or dangerous. They are rarely very active as they typically only take care of extremely powerful vampires.

Vampire

Level E Vampire [LEV] - Ex Humans who are on the VHA's hit list due to their unstable state. EVs have an uncontrolable blood lust and can barely be called human beings.

Level D Vampire [LDV] - Ex Humans who are somewhat stable and bound to their creator, but will become EVs unless they take their creator's blood or tamed by the VHA (though the process will only be delayed).

Level C Vampire [LCV] - Regular vampires who have a lot of human blood in them and do not have very strong powers or very many powers. They often carry weapons.

Level B Vampire [LBV] - Noble vampires who have a little human blood in them and have semi-powerful powers and a handful of different powers. Some carry weapons. Most nobles are a part of the COE.

Level A Vampire [LAV] - Royal vampires who have no human blood in them and have very strong powers and a wide range of powers. Very few carry weapons. Due to having to human blood in them, they are more commonly known as Purebloods.

Council of Elder [COE] - A group of vampires that is mostly made up of the nobles. They are responsible for governing the the vampire society. They are still subject to the Purebloods though. The Pureblood Kuran family once lead the COE.
Image: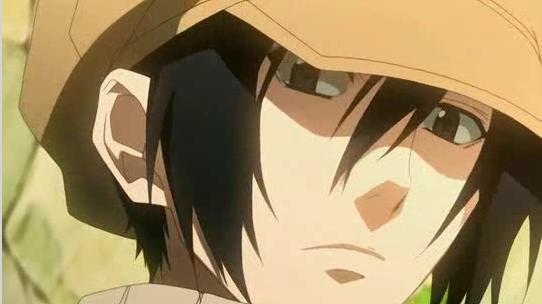 personality:Ryuu doesn't like it when adults talk to him like he's a kid he would suddenly disappears and makes them furious his quietness can be annoying that he would actually cause trouble and he only talks to people he knows or his friends.
Uniquenes:Ryuu points his finger on people that he is interested (mostly girls) but ihe does this habit rarely that others think the person pointed was special.He also likes putting his hand on sunlight.
Biography:Ryuu was born in America where his father lives his mother which was a half japanese left after he was born he was only allowed to see his mother when he is a fully-matured vampire.During his childhood he would always watch their neighboring kids play in the sunlight,with his father busy at work he did not enjoy much of his childhood until a girl named Micah had the courage to approach him,at first she looked like a food for Ryuu until he thought of her as the first friend he should treasure until the day of Ryuu's birthday she asked Ryuu what would he like as a gift for him Ryuu told her that he was a vampire after telling the shocking truth,Ryuu asked for her blood after she was bitten Ryuu's father killed her because Ryuu is a vampire and she is not after that,Ryuu's father isolated him for four years as a punishment for being friends with a human which caused Ryuu's inferiority with other people when the time has come for Ryuu to meet his mother,she served as a cure for Ryuu's life she arranged for him to attend Cross Academy hoping that he would restore his old self.
Rp sample:"Ryuu why are you pointing to that tree?" a man spoke as Ryuu continues to point on the tree "there's someone in there" Ryuu replied as he puts his hand down "come out now I see you already" he added as a little girl came out of the tree "uhh Mr.young man you dropped this" the girl spoke as she hands the notebook on Ryuu "ohhh I see but you can also run and hand me the book than hiding and following me" he spoke then touching the girl's face "master Ryuu you should go to school right now" the man with him said "sorry,okay little girl you should go home now" Ryuu said then heading to school "she reminds me of someone" Ryuu said to himself as he walks to school on his first day.
Last edited by ryuu_evans on Sun Nov 15, 2009 8:37 am; edited 3 times in total



Posts

: 44


Join date

: 2009-11-13


Location

: Mina's house trying to get away from the chores

Character sheet
Name: Ryuu Evans
Class/job: Night student


in your biography it said you turned a girl into a vampire....only purebloods can do that and also why would a vampire hunter work for a vampire ^^"
Admin




Posts

: 99


Join date

: 2009-11-11


Location

: Robbing a bank with a Top hat, three cans, and a paperclip

Character sheet
Name: Jeno Talborn
Class/job: Day student


ok I edited it sorry about the pureblood and vampire hunter thing



Posts

: 44


Join date

: 2009-11-13


Location

: Mina's house trying to get away from the chores

Character sheet
Name: Ryuu Evans
Class/job: Night student


well it'd be better with what age he was on his birthday when he bit the girl...but you don't have to add that
♪APPROVED♪
_________________
Spoiler:
click it:
Spoiler:
Admin




Posts

: 99


Join date

: 2009-11-11


Location

: Robbing a bank with a Top hat, three cans, and a paperclip

Character sheet
Name: Jeno Talborn
Class/job: Day student




Similar topics
---
Permissions in this forum:
You
cannot
reply to topics in this forum