Name: Tanjuu Chi Alias :Kazeshini
Meaning: Chi meand blood Tanjuu means Revolver. (Blood Revolver) Kazeshini means Deathwind!
Actual Age: 253
Physical Age:
Race: Vampire
Job/what they do: Student Night Class
Rank:(What Rank your in. Please combine abbreviations or words together as needed. For vampires, rank from A-E for now. Also to keep form any future confusion, no there are no level E purebloods.
List of abbreviations and words:
Spoiler:

Students

Freshman Student [FS] - A human student who is in their first year of attending Cross Academy.

Sophomore Student [sS] - A human student who is in their second year of attending Cross Academy.

Junior Student [JS] - A human student who is in their third year of attending Cross Academy.

Senior Student [SS] - A human student who is in their fourth year of attending Cross Academy.

Cross Academy Falculty [CAF] - A human who either runs Cross Academy, teaches the students at Cross Academy, or helps with maintenance of Cross Academy.

Vampire Hunter

Tamed Vampire Hunter [TVH] - A Level D Vampire who has been tamed by the Vampire Hunter's Association. Their ability to handle vampires varies depending on how well they can fight vampires.

In-Training Vampire Hunter [ITVH] - A young hunter who is just learning about vampires and what a hunter does. These are typically children of hunters or hunters who are being "made" not "born".

Beginning Vampire Hunter [BVH] - A hunter who is somewhat knowledgeable about vampires, how to fight them, and dispatch them; however, they have yet to actually face any particularly dangerous vampires.

Apprenticed Vampire Hunter [AVH] - A hunter who is somewhat experienced at handling vampires. They can handle most vampires on their own; however, when facing large numbers of vampires or power vampires they may be inexperienced or need back up. They typically have a personal teacher that accompanies them and helps them dispatch vampires until their teacher deems them capable of handling vampires on their own.

Vampire Hunter [VH] - A hunter who has had much experience at handling vampires and is deemed capable of teaching other Hunters how to properly deal with vampires or help them polish their skills. They can handle vampires on their own with relative ease and can even be a match for high leveled vampires.

Master Vampire Hunter [MVH] - A hunter who has had a lot of experience with vampires. They tend to hold positions of power within the VHA, see to it that hunters exist, keep the hunters in check, and give other hunters notices of dangerous vampires in the area, or order hunters to take out various vampires when they become too powerful or dangerous. They are rarely very active as they typically only take care of extremely powerful vampires.

Vampire

Level E Vampire [LEV] - Ex Humans who are on the VHA's hit list due to their unstable state. EVs have an uncontrolable blood lust and can barely be called human beings.

Level D Vampire [LDV] - Ex Humans who are somewhat stable and bound to their creator, but will become EVs unless they take their creator's blood or tamed by the VHA (though the process will only be delayed).

Level C Vampire [LCV] - Regular vampires who have a lot of human blood in them and do not have very strong powers or very many powers. They often carry weapons.

Level B Vampire [LBV] - Noble vampires who have a little human blood in them and have semi-powerful powers and a handful of different powers. Some carry weapons. Most nobles are a part of the COE.

Level A Vampire [LAV] - Royal vampires who have no human blood in them and have very strong powers and a wide range of powers. Very few carry weapons. Due to having to human blood in them, they are more commonly known as Purebloods.

Council of Elder [COE] - A group of vampires that is mostly made up of the nobles. They are responsible for governing the the vampire society. They are still subject to the Purebloods though. The Pureblood Kuran family once lead the COE.
Image: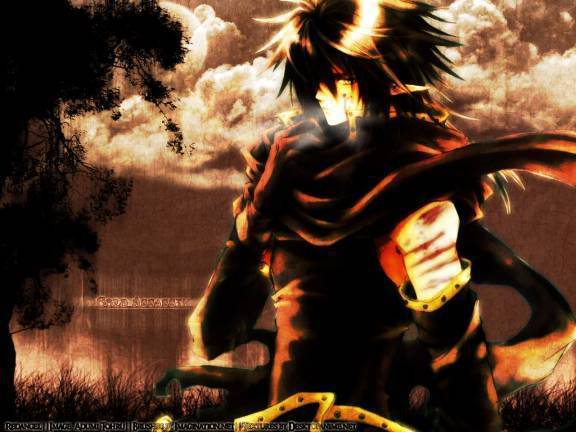 personality: Chi seems calm and collected but is tourchured inside. He finds people to burry his emotions in. The seemingly loving man is realy in pain ever step he takes, drinking blood is the only thing that eases the pain. He refrains from doing so but gets caught up somtimes with his feelings and lets himself go.
Uniquenes: Chi loves people with a bubbly personality. So he tends to keep them around and protect them. He has a tendency rub the colar of his shirts when he is anrgy. Chi is very talented at playing guitar and he loves playing metal!!! He has loved the guitar sense he was able to see.
Biography: The days of youth were helpfull to make Chi the man he is today, he never knew his pure blood parents but was raised by a country man. The man was old when Chi was young and he doesnt remember much about his physical characteristics, but he remembers all the stories and the old mans view on peace between humans and vampires, the view that it was possible. Trying to help humans and vampire that controled their blood lust, Chi gave the Vampires a choice in fufilling their desires or to control them. anyone that didnt want to control them, wasnt worth helping. He wanted to aliminate vampires that only control their blood lust in fear of Chi. When he was old enough, he was accepted into the Cross Academy as a Nigth student and Chi started to grow on the others. To this day he works towards the peace his mentor knew was possible between Vampires and Humans. A day came when he was walking threw a village, he saw a little gilr crying in an ally way. Walking to the girl he noticed the sent of a vampire. Not knowing if it was the girl or a vampire near by, he continued walking anyways to see if she was a human in need. He touched the shoulder of the little girl and it turned around, she was a human girl holding a teddy bear covered in blood. "My brother, help him." Chi looked up as the real vampire jumped from the wall behind him. The claws reached inches away from Chi's face when it stopped. Not moving an sliver, the vampire looked at him and said, "Brother?" The vampire wasnt related but still shared the same blood. The words for the level E angered Chi and he slashed the vampire with his hand. "Be gone spawn of darkness, you and I will never be brothers." Chi grabed the girl and took her home. The mother was found outside franticlly looking for her daughter. Chi apeared from the air and set the child down. the girl ran to her mom as the mother looked at Chi with fear deep in her eyes. "Monster, never touch my child again." The little girl looked away and Chi's body was filled with anger, angry that the mother almost lost her daughter but called the savior a monster. To this day Chi's mind rings with word that haunts him forever.
Rp sample: "The Night is cold, how odd for this time of year." Chi walked along the outskirts of the Academy as he heard a nose in the distance. A Hunter aimed his rifle at Chi from afar, hoping he wouldnt be noticed. "I got you now...." The Hunter looked in his scoop as Chi was not to be seen. The sound of the hunters blood splattering across the grass and trees gave Chi a tingle up the back of his spin. He grabed the rifle and snaped it in half. "If peace is to be brought to the world, ssadly you have to die."
Last edited by Tanju Chi on Fri Nov 13, 2009 8:45 am; edited 3 times in total



Posts

: 35


Join date

: 2009-11-12

Character sheet
Name: Tanjuu Chi Alias :Kazeshini
Class/job: Night student





Posts

: 35


Join date

: 2009-11-12

Character sheet
Name: Tanjuu Chi Alias :Kazeshini
Class/job: Night student


~approved~
_________________
Spoiler:
Admin







Posts

: 426


Birthday

: 1995-06-10


Join date

: 2009-10-11


Age

: 24

Character sheet
Name: Ariane Yuki Hoshi
Class/job: Day student



---
Permissions in this forum:
You
cannot
reply to topics in this forum