Ariane's outfit: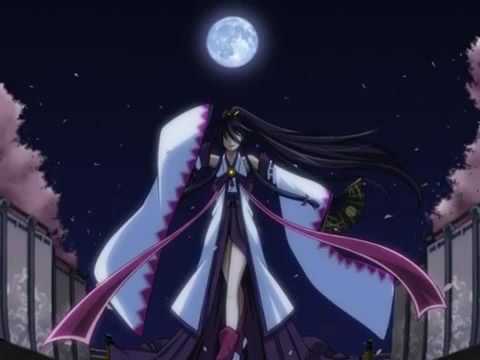 (Bored, so I just posted this. But there is some type of story behind it. Ariane is practicing for her Mission as a Vampire Hunter. Her mission is to simply observe the auidence carefully and this dance is her cover, which will also give her lots of acess to stuff in the building where it'll take place. The council somehow got her in the dance, but they were not told who or what she was going to be dancing with and just gave her some sheets of paper that were talking about the dance.
Well that's all I got and this would fit like days after the Celebration Elections topic, I was planning to do something in the topic so the next mission will make sense, maybe I should just make the mission and just give a background story?)
Ariane was in the gym, her white hair was covered up by a long purple wig. She got in her position, which was sitting on the ground with her head down. She held two black identical fans in each of her hands, which covered her face. Ariane closed her eyes, she knew this was the part where the clapping would end and her partner, which was not there would start talking. "Is revenge really sweet?" Is what he would say, if he was there. He would then sit down and a spotlight would go down on Ariane. Music started to play in the gym. Ariane slowly moved the fans from her face. As her eyes slowly opened, when they fully opened, the spotlight went out and her eyes glowed red. Her eyes weren't actually glowing red, it was just her contacts. She slowly stood up and quickly and silently closed one fan and put it away. She covered her face again with the fan and looked at her invisble partner. She then danced to him as he danced to her.
Her dance required all sorts of spins, steps and hand movements. It was a hard, but graceful dance. While her partner had no spins and mostly steps, hand movements and a few jumps.
Ariane was near her invisble partner, who now had a sake cup out. Ariane then fell to the ground as she put away her fan. Ariane knew that once she was sitting down, a sign that would say: In the past would go by her and the stage will then blackout as a lot of people came on stage and one of the people will lay in her lap. The stage will then come back from its blackout and the auidence will then see a lot of dead people and Ariane crying over the persons's body. Her partner would then walk towards her and look down at her as she looked up. She looked at the audience and her red eyed contacts would glow red again as the lights went out.
The people on the stage would then run quietly off the stage. When the lights came back on, Ariane would do her dance once again, this time she pointed her foot and put her leg high in the air and then spin to where her partner was holding the cup. She would then grab both of her partner's hand and spin on one toe. This was a part that Ariane couldn't do, so she just did the next step, which was bowing and then taking a sip from the cup. While taking out a fan and then flip it over in her hand to reveal a knife. She quickly dropped the cup and put the knife against her partner's throat. His expression would then change from shock to a smile. Both Ariane and her partner then would look at the audience and as the lights went out again, Ariane's eyes would glow red as his glowed blue.
(OOC:Not full ver.)
_________________
Spoiler:
Admin







Posts

: 426


Birthday

: 1995-06-10


Join date

: 2009-10-11


Age

: 23

Character sheet
Name: Ariane Yuki Hoshi
Class/job: Day student



---
Permissions in this forum:
You
cannot
reply to topics in this forum